Travel Scrapbooks at Yellowstone National Park
I've recently returned from a week of researching travel scrapbooks at the Yellowstone Heritage and Research Center in Gardiner, Montana.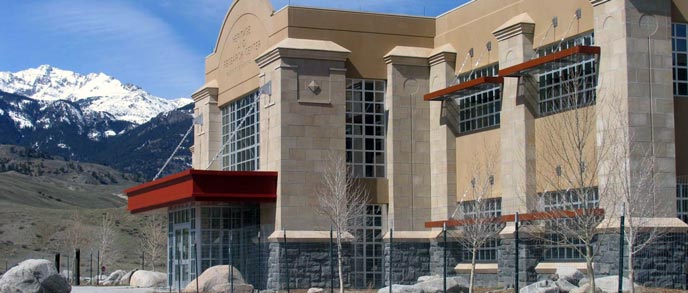 The trip was generously funded by the Philip Jones Fellowship from the Ephemera Society of America and gave me an opportunity to research dozens of scrapbooks from the 1880s through the 1970s.
I've previously done some work on scrapbooks as they relate to modern poetry (I published an article on Marianne Moore's scrapbooks as they relate to her collage poetry in the January 2011 issue of Modernism/modernity, and as essay on modern scrapbooks and archives in the 2015 Cambridge Companion to Modern American Poetry). This research has given me an opportunity to think about scrapbooks in a wider cultural context, however.
I am currently working on a more formal article based on this research, but I thought this blog would be a good forum to put down a few initial thoughts.
One of the things that has drawn me to the study of scrapbooks is the way in which scrapbookers often use the materials of mass print culture to convey their personal stories–how they individualize the general through juxtaposition and marginalia.
Such materials might include clippings from  newspapers and magazines, and in the case of the Yellowstone scrapbooks, also often include such other ephemera as maps, train tickets, and dining menus.
I came across several photo albums in my research as well–many containing images of the park in a state that is quite different from how it is today (e.g. visitors cooking just-caught fish in steaming geysers or standing over a recently shot wolf). As fascinating as these albums are, in this research I have been more interested in those photographs that make up only one element of a page, placed against postcards and advertisements as if to add a personal variation on the standard image or merely to confirm all the hype. There is something here at the intersection of the ideal and the real that is worth further exploring as it is negotiated in the scrapbook.
Yellowstone travel scrapbooks–or those travel scrapbooks in which Yellowstone is one destination among others, such as national parks and other (mostly Western) sites–also gives an interesting glimpse into the changing possibilities for travel. Some of the scrapbooks depict a grand rail journey; others, the adventure of the motorist often making his way through the park without the roads and other infrastructure that we might take for granted today.
These scrapbooks give a pretty clear indication of what one could
expect for the night's accommodations or for the day's lunch. Beyond being convenient containers for all manners of ephemera related to the vacation experience, these scrapbooks also often materially embody what could be called an affect of travel.
This affect of travel is something that I am keen to consider further as I reflect on this research and write a more formal essay.
Also, in the evenings I was able to enjoy nearby Mammoth Hot Springs inside the park.